Empowering Foodpreneurs Everywhere
Join forces with fellow entrepreneurs in our state-of-the-art incubator kitchens, and be part of a thriving community. Build and scale your food business in health department approved commercial kitchens and choose from a wide range of spaces, equipment, and tools to support your growth.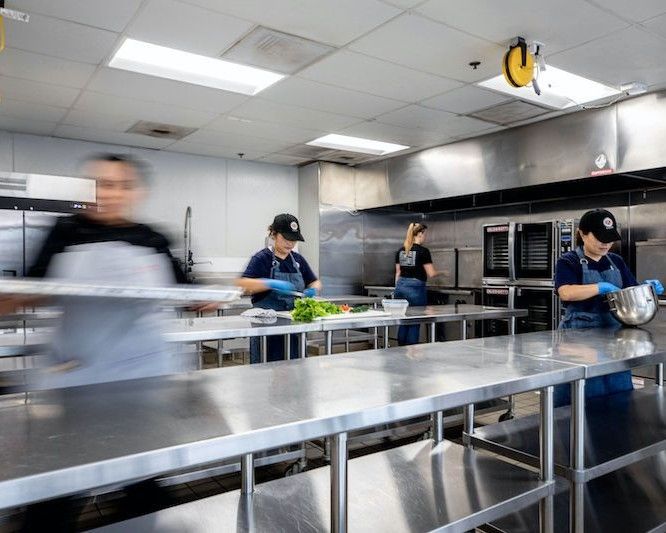 6
Commercial kitchen spaces
Fostering the Success of Food Entrepreneurs
Join our vibrant ecosystem to flourish as a food entrepreneur.
Kitchen spaces, small to large
Find the perfect fit for your culinary venture, from compact kitchens to expansive setups.
Professional support
We provide more than just space; we offer a community of support.
Pro chef equipment
Our kitchens come fully equipped with professional-grade appliances.
Permits, licenses... we got you
We simplify the legalities so you can focus on your business.
Small business training
Our training programs are tailored for the unique needs of food entrepreneurs.
Start small and grow
We're here for the long haul, supporting you from startup to scale-up.
Equipped for your success
Hotline Equipment
70 feet of hood space outfitted with a diverse array of cooking equipment, including standard, convection, and combi ovens, alongside stoves, a tilt skillet, blast chiller, smoker, steamer, grills, and kettles.
Administrative Tools
Heads-down workspace equipped with high-speed Wi-Fi and full access printer. Register 4SM as your official business address, allowing you to receive mail and packages right at your workspace.
Food Processing Gear
Comprehensive range of food processing gear tailored to your needs. Choose from three different sizes of mixers, versatile food processors, a high-volume immersion blender, and a Vitamix blender. We also offer an assortment of mixing bowls, pans, and speed racks.
Storage & Receiving
Flexible options for dry, cold, and freezer storage so you can buy from wholesale vendors and receive orders on site. Book as little as a single shelf or scale your business with rentable metro racks, cages, and even private rooms.
Taste the Power of Community

Become part of our innovative food business incubation hub. Fill out the form below and we'll contact you about next steps